A viral video of a 71-year-old woman who still visits the gym has caused a huge stir online.
The septuagenarian, who is a fitness enthusiast, became an internet sensation after she shared videos of herself on TikTok showing her chiseled body.

She also shares videos of herself in the gym on her TikTok handle @seniorcoach, with over 200K followers.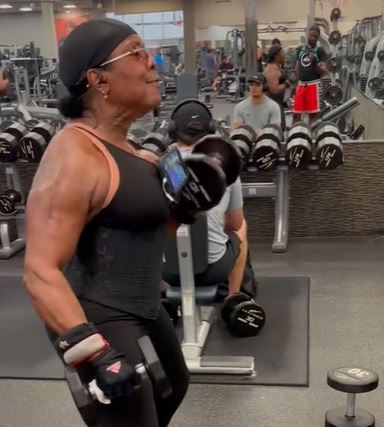 The 71-year-old, who acknowledged that she goes to the gym daily despite her age, advised those who find it challenging to work out to take a cue from her and take their fitness seriously.
"At 71, I cannot afford not to push myself. You are losing a lot if you just lay on your bed everyday. Dress up and hit the road." She said in one of her videos.
Watch videos below,
Reacting, social media users praised her energy, and many noted that her regular exercise has made her look younger than her age.
@Ellie wrote, "Sport is good! It has made her younger than her age."
@Jeremy Res, "This means I am actually so lazy. I gotta start working."
@Mali Sandra, "I think I have been lazy. I must work. Thank you mam."
@uzo11 wrote, "Mum I love you so so much oooooo,I will follow your step. mummy I don't have trainer dash me one pls".