A video circulating online shows the moment a lady tackled an Anambra-based tailor over the difference between the outfit she ordered and what she made.
In the video, the young lady who went to the tailor's shop to try on the dress, was left disappointed after seeing that it was ill fitted.
The lady said the dress was too tight in the hand and thigh region and she couldn't walk freely in it.
She also pointed out that the breast region was too big for her as her bosoms are not that big.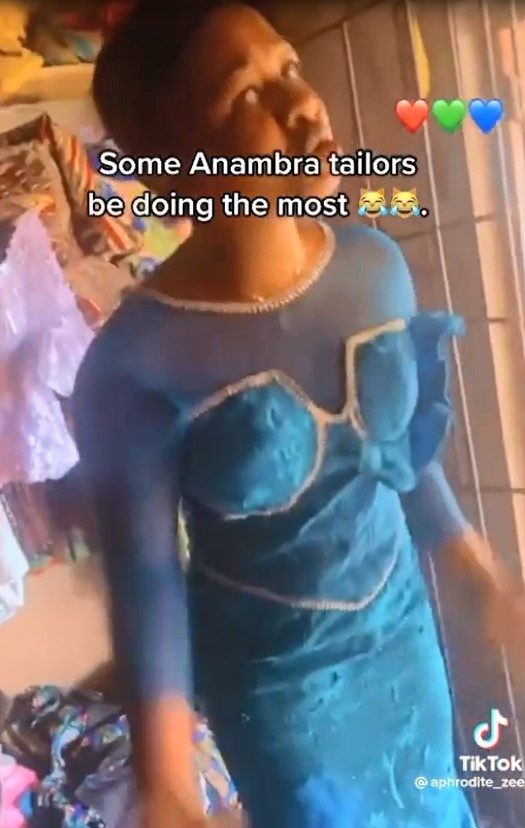 The lady who was livid queried the tailor for not sewing the right fit despite showing her a picture of the style she wanted.
However, the tailor said the outfit only needs minor adjustment.
Watch below,
The video which is currently trending online, has sparked different comments from social media users who faulted the young lady for taking a sophisticated style to a roadside tailor.
_therealoluwaseyifunmi wrote, "You carry IG design go give your local tailor. Now she don carry your hand go where you no know 😂😂"
@amyshine0 wrote, "Which one is where's your hand? Know the difference between a "Fashion designer and a "Tailor."
@truth.com.uk wrote, "There's so many good tailors in Anambara but she went for the Cheaper one 🤷🏽‍♂️🤷🏽‍♂️"
@blackstory23 wrote, "Ur breast will grow and meet it na.. no vex "