Popular Nigerian singer, Iledare Olajuwonlo, with the stage name, Jaywon has revealed why he stays singer and yet to get married.
The 34-year-old who launched his record label named Next World Music in 2013 after his exit from Kennis Music made the revelation on his Instastories.
Using singer 9ice scandal as an example, Jaywon said it was wrong to marry a lady and ridicule her.
"One of the reasons why man is still not ready for marriage is because of dramas like this…..No marry person come ridicule her like this all in the name of marriage," he wrote.
"Really feel for the woman. Man go dey OK las las but the woman won't cause that shit will hunt her for life!!!"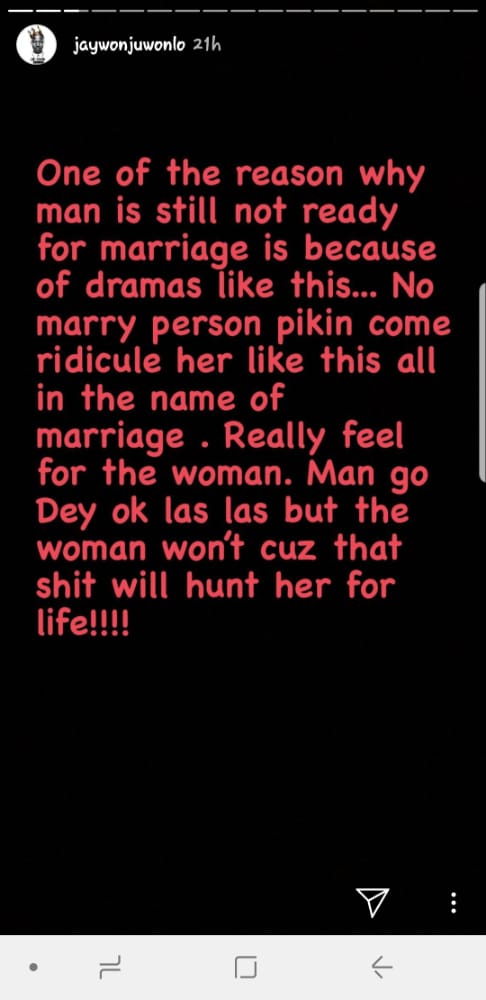 In another story, the singer wrote; "Y'all steady encouraging people instead of to tell them their fucks up. If your guy fuck up, tell am straight so he can do better next time. Na oju aye go kill all of una."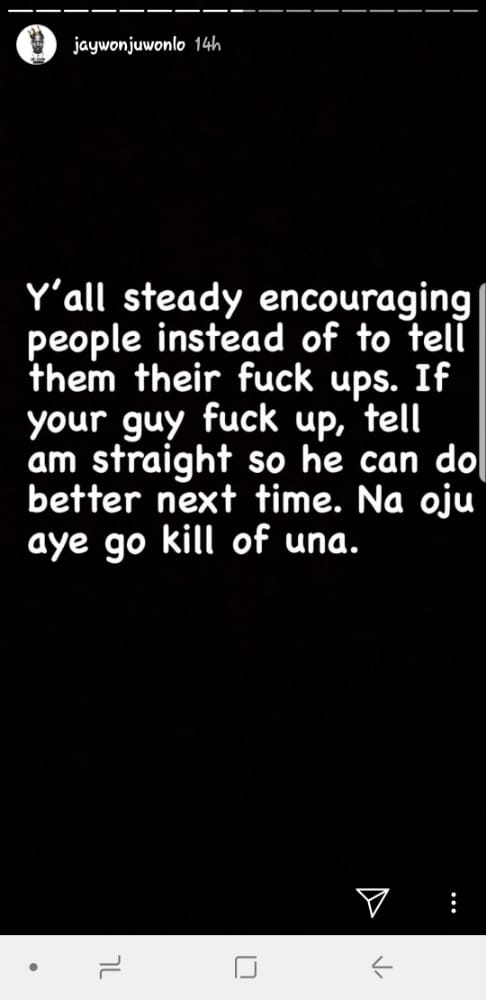 Recall that, singer 9ice trended on Saturday after a video of him caressing another woman went viral.
The embattled Nigerian singer took to his social media page Instagram, to share a video on Saturday asking fans to help beg wife Olasunkanmi, saying his marriage is on the line after the video went viral.
In the video, the singer said the 'shameful thing he's done is costing him his marriage'.
He said ;
"I have done something so shameful, something terrible and it is costing me my family and the most important thing to me right now is my family.

The 9ice that you always see and appreaciate is beacuse I have a backbone, Olasukanmi Akande and because of this terrible thing that I have done, it is costing me a whole lot.

I apologise for what I have done and I need you guys to help me beg my wife. She is my backbone.

I have excelled in so many other things but one thing I have being failing is my marriage but this marriage, I want it to work. Please, help me beg my wife. Save this marriage for me", he said.
See the clip HERE;