Scores of residents of the Otuoke community in Bayelsa state have been displaced from their homes as floods continue to ravage most parts of the country.
A Facebook user on Friday shared a photo of one of the victims simply identified as Kardi, sleeping on top of the Otuoke Bridge.

In the photo, the young woman is seen lying on the bridge with what appears to be what is left of her belongings.
The Facebook user, Queen Favour posted the photo with the caption "Kardi Blinkz dey suffer o. She is currently sleeping on top Otuoke bridge."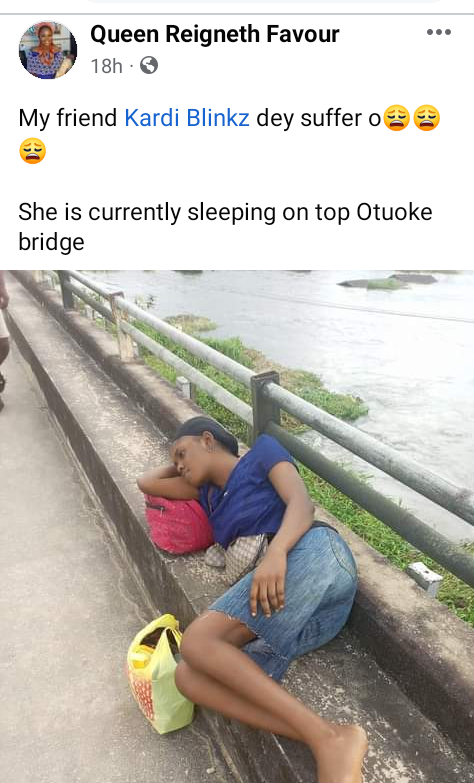 Just this morning, a farmer based in Bayelsa took to social media to express his sorrow after his poultry farm was ruined by the ravaging flood in the state.
The country is unarguably currently facing one of its worst flooding incidents in years. Severe floods have ravaged different states in the country, leaving thousands homeless, farmlands destroyed, and roads impassable.
Some of the most affected states include Kogi, Anambra, Rivers, Benue, Yobe, Delta, Cross River and Bayelsa.
The farmer, who lives in Bayelsa state, took to Twitter to share the state of his poultry farm after it was submerged by floodwaters, leaving almost all his birds dead.
In the video the troubled farmer shared on the micro-blogging platform, hundreds of chickens were seen lying on the floor, dead.
Sharing the video, he revealed the incident has left him totally depressed.
The farmer, who revealed he has lost over three thousand birds, put the remaining live birds up for sale at a paltry price of 500 naira.
"This is my farm in Bayelsa State. The state has been cut off. No way to bring in feeds, nor medics. We are fighting both flood and birdflu at the same time. As at yesterday, I lost 3, 897 birds. My heart is failing me. Totally depressed", he wrote.</em