The Pairing of the season 3 Big Brother Naija housemates seems to have been achieving it's aim of "bonding", as there seems to be a lot of sexual tension in the house.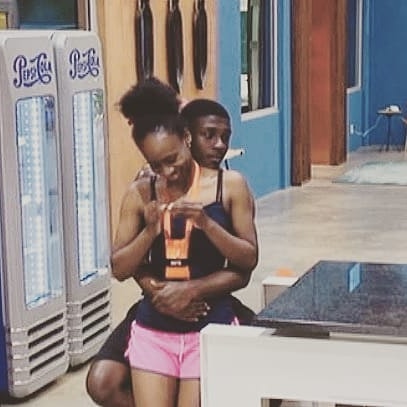 Lolu and Anto are in the spotlight this time as Lolu is seen to have quickly covers his erection after Anto stands up from his lap.
The former had a big erection that he quickly tried to hide with his hands after Anto stood up from in between his legs.
Watch the video below:
LOLU WILL KILL ANTO ???? Can you see what I'm seeing #bbnaija pic.twitter.com/Z0x0sdlruA

— ⚓️ Power Circles ⚓️ (@BabyTeddypender) February 7, 2018
Recall, K. Brule apparently, tried to lick the Ice cream off Anto's lips, so he could get a kiss, but she refused.. Yes, he licked the ice cream off her cheeks also, but Anto didn't allow Brule Kiss her on the lips.
Minutes later, Princess rubbed some Ice cream on Lolu's lips, and he walked up to Anto, and she didn't waste no time in Kissing Lolu, and it was beautiful.

A very pained Brule looked on with great shook.


There has really been much fun in the house recently, as Anto gave the outgoing Big Brother Naija 2018 'Head of House', Tobi, a lap dance.
Here's the video below;