Media personality, Kelechi Ikpe has said that one of the reasons why depression is on the rise is because men are disturbed by women taking up leadership roles.
Four African women sat down to discuss the rise in depression in our society in the 21st century. The group was made up of Lolo Cynthia, Kelechi Ikpe, Rafieka Williams, and Wathoni Anyansi.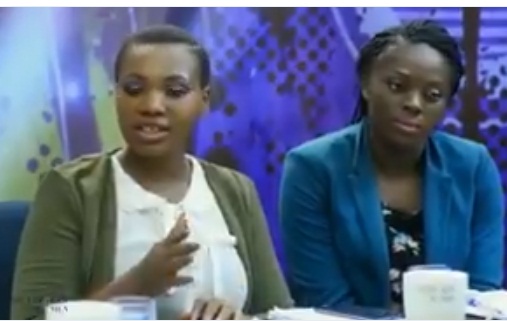 As they spoke about depression, Kelechi came up with a point that she believes has led to the rise in depression. According to her, A lot of men are depressed because a lot of women are taking up leadership roles.
See Video Below :
Why is depression on the rise?

..A lot of men are depressed because a lot of women are taking up leadership roles…

..young people are depressed because they have way too many options…

..many people are simply lying to join the community of depressed people… pic.twitter.com/xrCT5rHH2P

— Lolo Cynthia (@Lolo_cy) January 17, 2019
Kelechi Ikpe's opinion has generated massive outrage on Twitter with a lot of users berating her.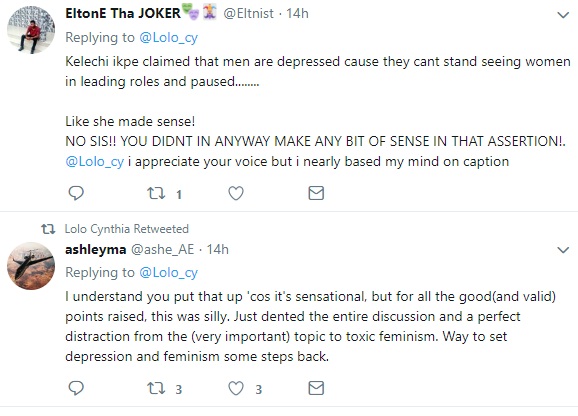 Following the social media outrage, Lolo Cynthia took to Instagram to explain what Ms Ikpe meant.
Cynthia wrote:
This part of the video where @kelechitalks gives her. Opinion have led to huge outrage on twitter. –
Let me say this, I believe we are quick to jump on anything that remotely discusses gender because of the clime we at – that being said, I am not innocent because the heading was click bait; for this I take full responsibility. –
However this was an interesting point and we were corrected that depression might not be the best word to describe it.. –
In this society we live in, we can be honest and realistic that there are a lot of changes happening especially with women. The last century have led to lots of breakthroughs FOr women and also brought up conversation around the roles we had once taken up. –
I believe that many of us have our identities attached to these roles and with this shift, it can be overwhelming to find where you belong in the ever changing world. –
My co-host made sure to highlight that both genders were struggling with this shift as women have also had to step up into certain roles that they didn't have to engage in before. –
It will do us no good to continue to give into the outrage! We can't fight for change and not be willing to discuss how these changes are affecting the dynamic of day to day activities and our views on identity and life in general.