A twitter user has shared the sad story of a Woman who died due to child birth complications but it was after she refused the doctor's advice to undergo cesarean delivery (surgery) for her safety and that of her twin babies.
The sad part of the story is that the couple reportedly waited for 19 years before she'd finally get pregnant with twins.
Deedeeposh wrote ;
Sometimes if we Nigerians can just listen to our doctors advice, more lives will be saved. I lost my aunty two days ago to childbirth. Married for 19 years and finally got pregnant with twins at 44 years old.
She wanted to give birth naturally & the doctor said she was too old & advised against it since it was her first time giving birth. She refused CS & died in the process. The twins died too. I feel so bad for her husband because that man was patient. Can't imagine how he's feelin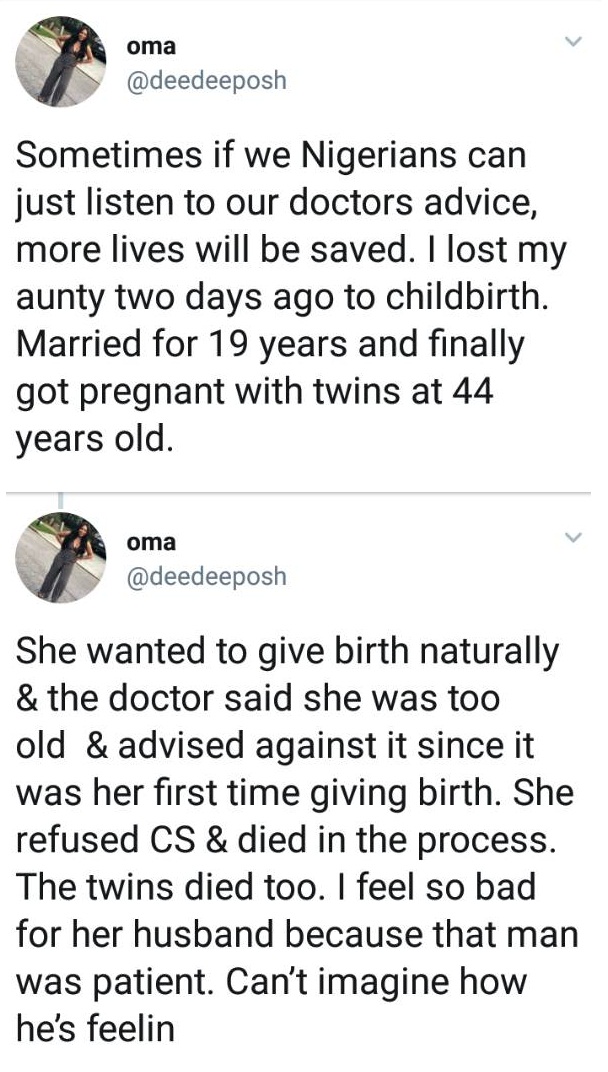 Reactions below ;
This giving birth like Hebrew women thingy, is seriously getting at us Nigerians,. May grant the husband the fortitude to bear the loss.

— Ukpeme Usen Ibokette (@UkpemeI) July 8, 2018
If I hear that "deliver like Hebrew woman" one more time eh 😡 thunder will not depart from that person's house! First of all, we ain't Hebrew. 2ndly S*** makes u ask "were these midwifes taught this in school" ??

— Kachi (@orebobo) July 8, 2018
God Abeg o…
"I want To get the feeling of how it is to push a baby" like there's a crown for it.
God console the family

— Chiderra (@Kinkyderra1) July 8, 2018
Chai! I'm so pained. Being pregnant at age 44 is considered high risk, so the only safe option is CS. May God strengthen u & ur family

— Nkay (@juno_gem) July 9, 2018
It's religious ignorance. Some of these women get the idea from their religious leaders that CS isn't of God. Now she's dead, the tragedy is on her.

— Iwezu Joy (@Missifyfelix) July 9, 2018