A Nigerian man is of the opinion that the Buhari administration has done more for women in the country than the gender knows.
According to the man in a tweet thread he shared, cheating has become more expensive now, so many men have resorted to being faithful to their spouses.
His tweets reads,
"7years ago, if you earned anything in the region of 400k and above you were a "big boy" Flight from Lagos to Abuja was btw 18k early booking to 25k late booking I mean u could import & export 4 times in a Month as a philanderer. Just one round trip now, your balance is 100k

See ehn, Buhari's govt has done more for women than they know. Men will learn to be faithful by force"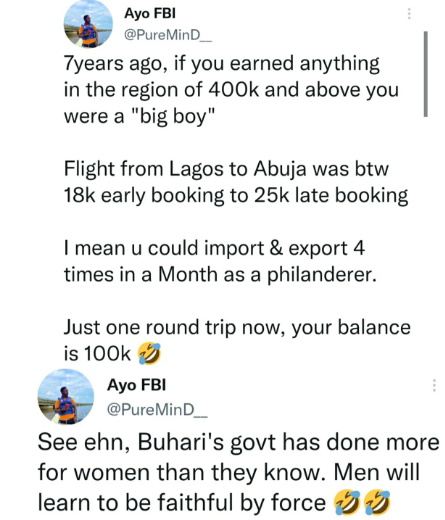 In other news, the Nigerian part of Micro-blogging platform, Twitter went agog with reactions on Tuesday because a lover-boy raised the bar so high in a bid to apologize to his woman.
A Twitter user with the handle @bes_t3_ shared the picture of a young lady receiving a 10 million naira Cheque with the description "I'm sorry" and she wrote ;
"The pressure is getting werrrser Who go offend me bayi"
While this may be seen as a sweet gesture that one would wish for, many other users were more concerned about the gravity of the offense that demanded such a grand gesture.
There were speculations on whether the guy was using her destiny and the 10 million apology was some form of consolation. (See Photos Here)