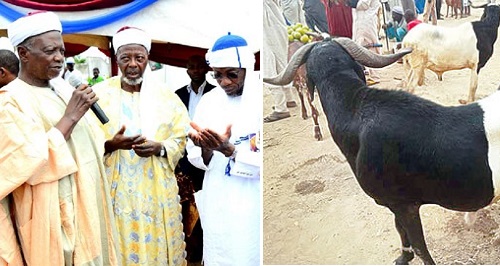 A professor of Islamic Studies, Badmas Lanre Yusuf, has warned Muslims against obtaining loans to buy animals for the Eid-el Kabir festivity.
In a sermon during a congregational prayer at Hilal Crescent Mosque, Ilorin, Kwara State, Professor Yusuf stated that Allah has not imposed on the believers tasks that are beyond their capacities.
The don, who is the immediate past Dean of Postgraduate School, University of Ilorin, said God has not commanded His servants to kill animals during the festivity except those among them who have the resources to do so.
The scholar, who told the history of the celebration of the Eid-el Kabir Festival and the imperativeness of sacrificing animals, said Allah has nothing to do with the blood of slaughtered animals but the intentions of those making the offerings.
He said:
"Islam makes things simple for its adherents. There is no condition attached to what we are doing in our religion. Ileya (Eid festival) is around the corner. It is a common knowledge that Muslims are preparing to buy animals for sacrifice during the festival.

"We have been given prescription on how to go about it. Almighty Allah has not conditioned us to sacrifice animals during the festival if we are not capable of doing it.
"What matters most is the intention behind whatever we do. There are instances that some people, all in the name of killing animals during the festival, will go as far as obtaining loans through the cooperative or bank. This is not acceptable. We should act within our own confines.

"We need to make it clear that Allah does not give us a responsibility or a task that we cannot accomplish. Therefore, we need to be cognizant of this in whatever we do in life.

"On the sacrifice of animals during the festival, some people used to misconstrue the intention as if we are performing ritual like other religions. We don't do that in Islam. What we are doing is in line with the deed of our spiritual leader, Prophet Ibrahim. We must also make it clear that Almighty Allah has nothing to do with the blood of the animals we sacrifice"