A scriptwriter, simply identified as Harnu, has taken to Twitter to lament after a producer, who supports BBNaija season 5 winner, Laycon refused to sponsor her script because she is a fan of Erica.
According to the Lady with twitter handle @Harnuolu2, the producer promised to support her script production with N500,000 and they scheduled an appointment to discuss.
During the meeting, the producer discovered that she is a fan of disqualified BBNaija housemate, Erica and cut off the meeting prematurely.
Read her full post below,

As an upcoming actress and a script writer, I was introduce to this producer two months back and we agreed to work together, last week she called me and we fix an appointment to meet at her place yesterday, I wrote a script, she was interested in.

So she promised to support the production with 500k. On getting to her place yesterday, in the middle of our discussion I wanted to show her a screenshot on my phone gallery so she saw Erica picture flooded my gallery, she return my phone to me and asked if I watched BBN

I even replied her smiling yes, she asked who my fave is and I told her Erica my star girl still smiling oooo, never knew am in for a mess, she said okay good for you. She stood up from her sit told me she has a meeting to attend in the next minutes that I can leave now.

I tried to ask her few questions but she told me that we will talk on phone, so I left her place on my way going back home in the bus, I saw her message, I was shocked and disappointed, can't cry.
See their whatsapp conversation after the meeting,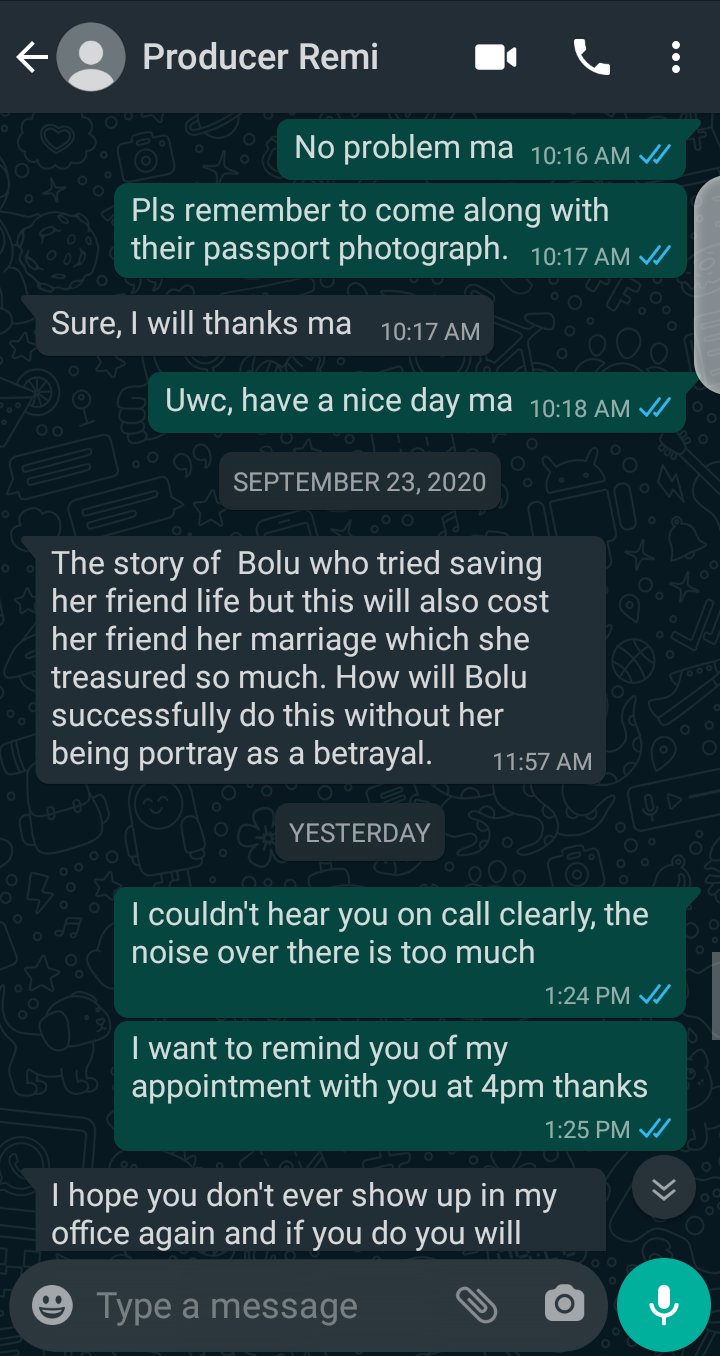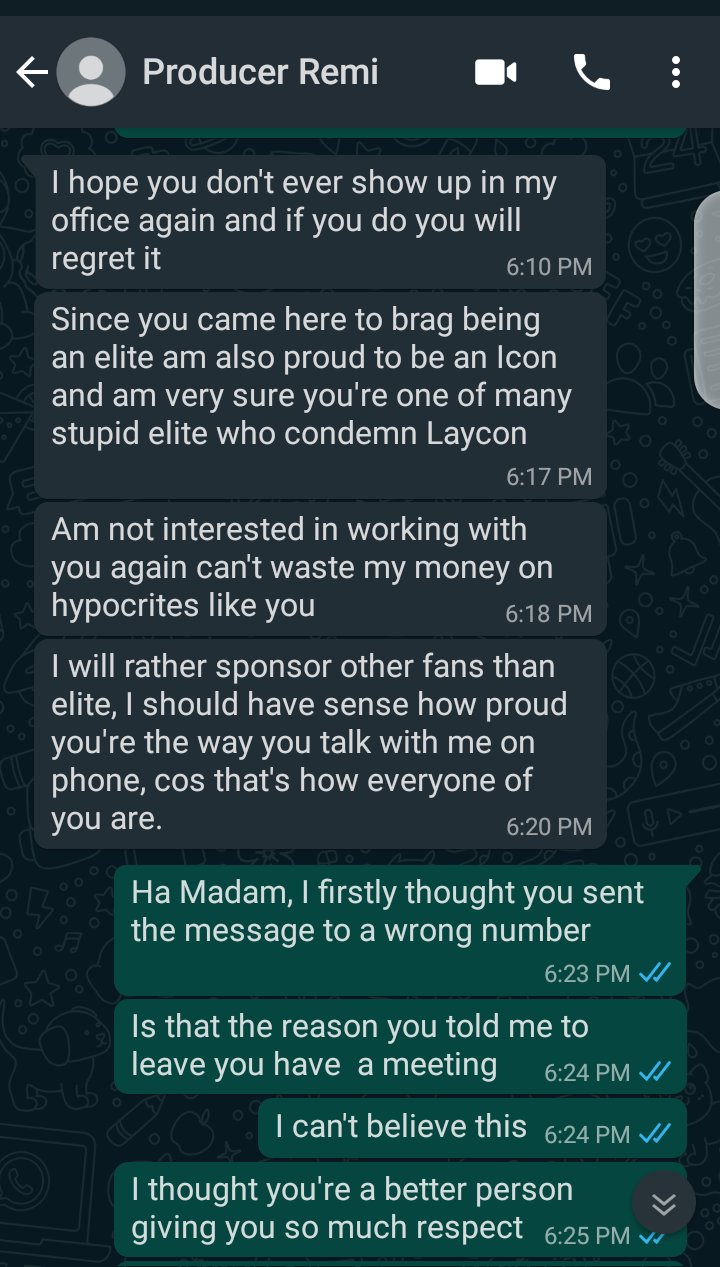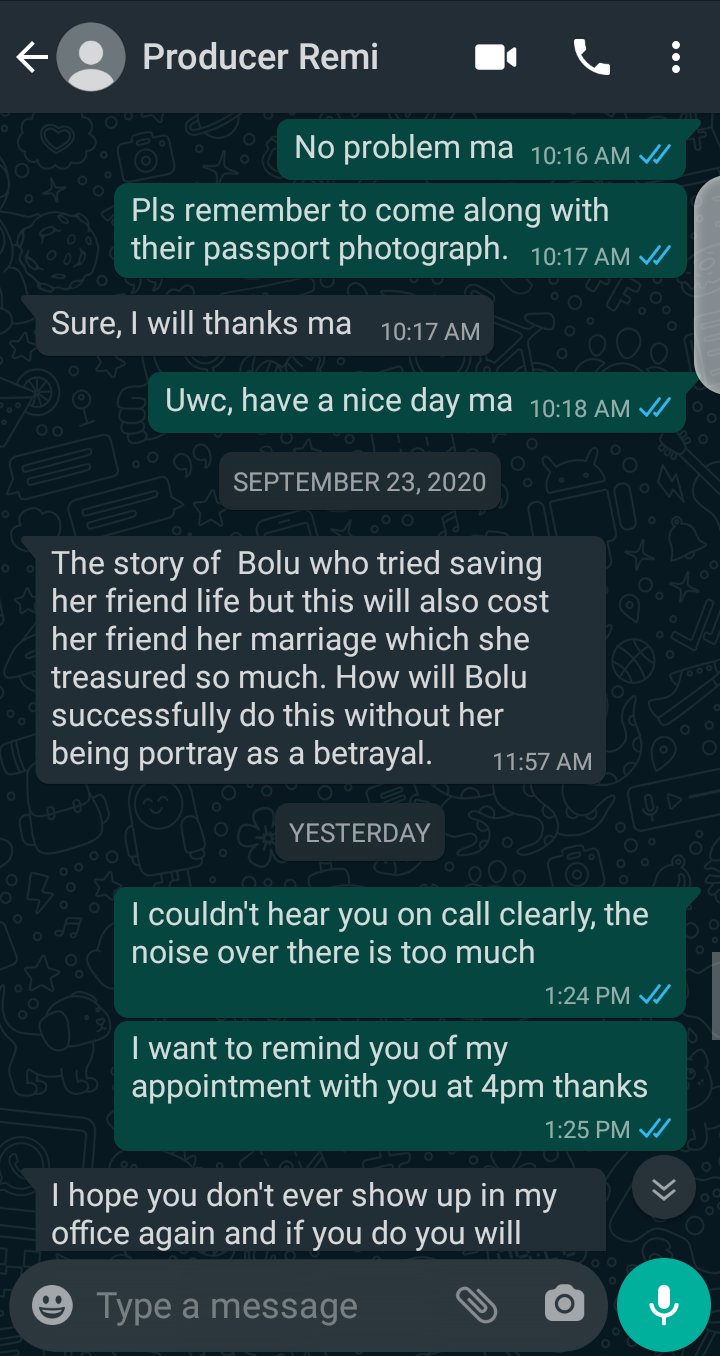 A producer an Icon disagree to sponsor my script production after discovering am an Elite. Am so disappointed in her ?#EricaOurWCW pic.twitter.com/LsiqISxTBs

— Harnu De Leoprincess⭐⭐?? (@Harnuolu2) November 4, 2020