A video of a Nigerian woman throwing her man's luggage out after she caught him with another woman in their home is making the rounds online.
The distraught woman is seen in the viral video fiercely tossing her husband's luggage out of the house while telling onlookers that she is the one who pays the rent.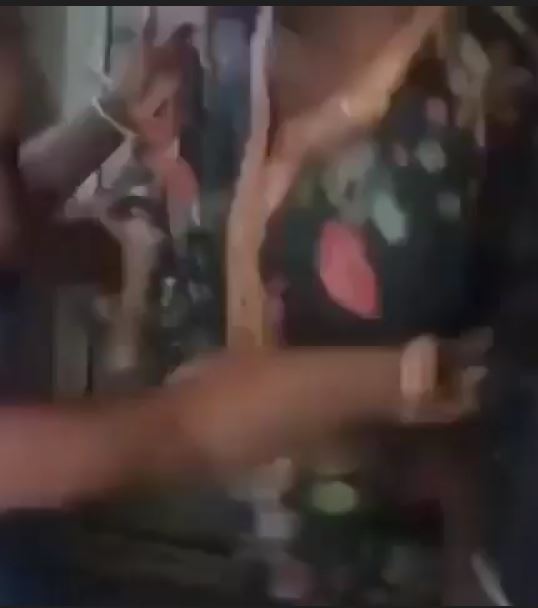 "This house when I dey pay house rent naim you come dey do nonsense?, she's heard saying.
The man then protested that she cannot throw him out as he is the man of the house.
"I am the man of this house. You nor go fit drive me", he said as he charged towards her.
The man went on to lament about how the woman deprives him of many things in the house.
Toward the end of the video, some neighbors came around to plead with the woman who threw her man's belongings out as well as destroyed the TV he brought to the house.
Watch video below,
In other news, a video from the scene of the fatal car accident that killed a woman while allegedly chasing her husband after she spotted him with another woman has been shared online.
It was earlier reported that an unidentified woman reportedly lost her life in a car crash in Calabar, Cross River State while allegedly chasing her husband, whom she saw with another lady at a shopping mall.
It was said that the deceased, a mother of three, sighted her husband leaving a shopping mall in the company of a lady and she tried to block his car with the Toyota Highlander she was driving in.
Her husband reportedly managed to get his vehicle out of the attempted blockade and took the Murtala Muhammed highway, with his wife in hot pursuit.
In a bid to outrun her husband, she lost control of the speeding vehicle, veered off the road and slammed the car on a tree, killing herself.
Popular broadcast journalist and humanitarian, Diana Mary Nsan, has now shared video from the scene of crash.