An enormous amount of people came out en masse to welcome President Muhammadu Buhari as he arrived Jigawa state for his 2-day official Visit.
The crowd cheered and waved at the President as he smiled at them. He was also welcomed by Governor Muhammadu Badaru Abubakar of Jigawa and Governor Abdullahi Umar Ganduje of Kano state.
See more photos below: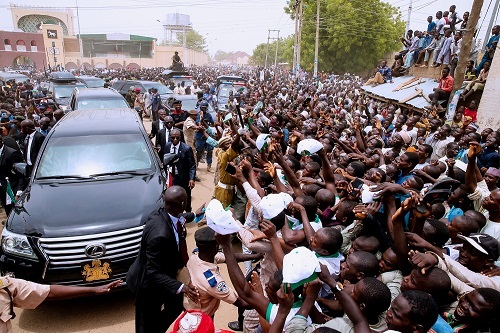 Meanwhile, Former governor of Anambra state and current Minister of Labour and Employment, Chris Ngige, says President Buhari has so far done well in all ramifications and deserves a second term in office. Ngige said this when he spoke at an APC members meeting in Ojoto, Idemili South Local Government Area of Anambra.
"I stand before you today to say Mr President has done so well in all ramifications. He will be returned by Nigerians in 2019 in a landslide victory," he said