A woman was startled when an orangutan kissed and caressed her during a recent visit to a zoo.
Last week, while the woman was at Safari World in Bangkok, the cheeky animal fondled her breasts and even gave her a peck on the cheek as she tried to pose for a picture.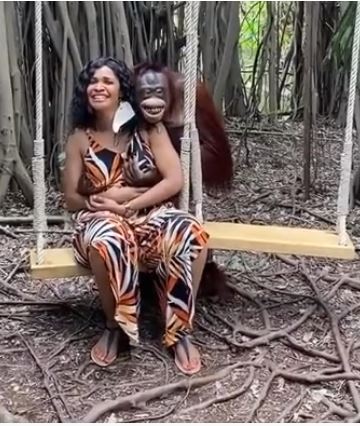 The primate was captured in a video that found its way to the internet groping her breasts and kissing her on the cheek as she tried to pose for a picture.
She was about to take a beautiful tourist photo while she was seated on a swing at the zoo when the cheeky monkey approached her from behind, pawing at her, touching her breasts, and making multiple attempts to peck her on the cheek.
The orangutan beams broadly as people photograph and record the encounter.
Despite being startled, the woman laughs as the orangutan plays.
Watch video below,

In other news, controversial Ghanaian actress and video vixen, Akuapem Poloo, has used her cat as a point of contact to pregnant women in labour.
This comes after the actress' cat gave birth to four kittens with ease and without any human assistance on Monday, July 4.
Akuapem took to her Instagram page to share a video of her cat and it's newborn kittens and praised it for being a "strong woman" due to it's resilience during labor.
The mother of one then used the cat as a point of contact to every pregnant woman in labour and prayed for them to also give birth with ease like her cat.