A young man left bystanders jaw dropped after he escaped while being transported in a police van.
In a video shared online, the young man is seen in a police van alongside other people who had been supposedly apprehended by the police, but as they were driving off, he jumped down from the police van and dashed into thin air in a flash.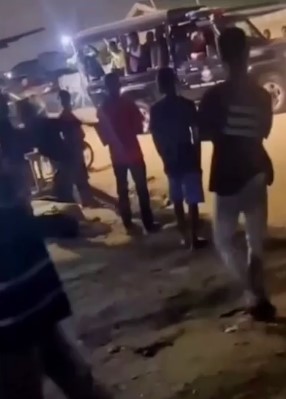 The young guy jumped from the van and bolted so quickly that the camera was only able to catch a glimpse of him in motion.
All bystanders could do was watch the drama unfold in surprise and even the police officers seemed so taken aback that they could not even engage him in a chase.
Watch the video as you scroll,
In other news, Operatives of the National Drug Law Enforcement Agency (NDLEA) have busted a major warehouse in the Ikorodu area of Lagos where 1.8 tons (1,855 kilograms) of cocaine were stored.
The cocaine seized from the warehouse located in a secluded estate in Ikorodu, is worth more than Two Hundred and Seventy-Eight Million, Two Hundred and Fifty Thousand Dollars ($278, 250,000), equivalent to about One Hundred and Ninety-Five Billion, Seven Hundred and Seventy-Five Million (N194, 775,000,000) Naira in street value, according to NDLEA's spokesman, Femi Babafemi.
Speaking to newsmen, Babafemi described the development as one of the biggest cocaine seizures in Nigeria's history.
"At least, four drug barons including a Jamaican and the warehouse manager have been arrested in the well coordinated and intelligence-led operation that lasted two days across different locations in Lagos State.

The warehouse, located at NO. 6 Olukuola Crescent, Solebo Estate, Ikorodu, was raided on Sunday and the barons were arrested in their hideouts in different parts of Lagos.

"Kingpins of the cocaine cartel in custody include Messrs Soji Jibril, 69, an indigene of Ibadan, Oyo State; Emmanuel Chukwu, 65, who hails from Ekwulobia, Anambra State; Wasiu Akinade, 53, from Ibadan, Oyo State; Sunday Oguntelure, 53, from Okitipupa, Ondo State, and Kelvin Smith, 42, a native of Kingston, Jamaica. They are all members of an international drug syndicate that the Agency has been trailing since 2018." Babefemi said in a statement.