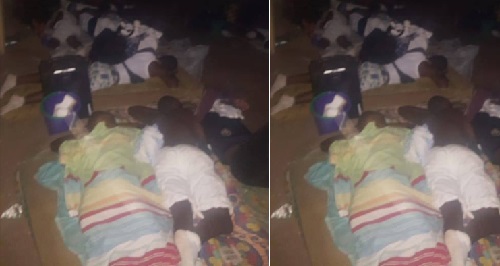 Some new disturbing photos which have emerged online show some Lagos corps members who were forced to sleep outside of their camp in Lagos.
Facebook user, Aniebet Anie Udo who shared some of the pictures said the corp members were chased out by soldiers from the registration hall which had them resorting to sleeping on the bare floor.
According to Aniebiet, they were chased out because the camp admitted more people than they were capable of accommodating.
She wrote:
Please SHARE!!!!!!! NYSC LAGOS CAMP. NYSC staff and Soldiers pursued us and we slept on the Ground. This is how we slept Tonight. We were pursued from the Registration Hall floor we've been sleeping on for 3 days straight to sleep in a tiny overcrowded room containing over 28 people mostimes with No Fan. When we said that it was wrong to pursue us because their boss was coming on Sunday we were left to our fate. THIS IS BECAUSE THE CAMP ADMITTED MORE THAN ITS CAPACITY .And we had to sleep on Sand. This is where we slept . Keep in mind that this is Bare Ground(Sand) We are sleeping . PLEASE HELP SHARE so we don't Sleep here again tomorrow.
UPDATE : Rain is now falling and the NYSC Staff have Abandoned us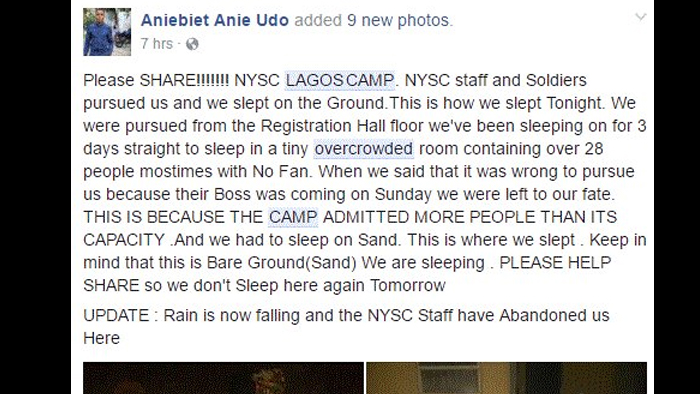 Continue with the photos below: