Popular comedian and actor, Basketmouth has cried out after a real estate company he paid N32 million to for a house 14 years ago refused to refund his money or give him the house he paid for.
Taking to his Instagram page, Basketmouth said shortly after he made payment for the property, the real estate company got into a legal battle with the bank funding the building project.

However, after the court case was resolved, the company started telling different stories with regards to them refunding his money or delivering the house.
After narrating his ordeal, Basketmouth asked if he has been patient enough with the company.
Read the post he shared below,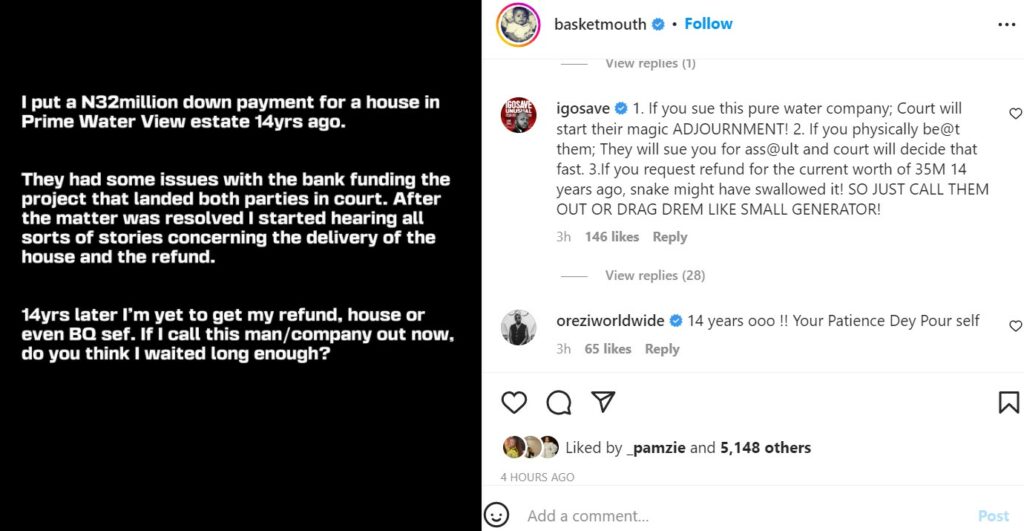 A while ago, Basketmouth reacted after he was compared to a dog on social media.
The picture of a weird-looking dog was shared online recently and netizens didn't waste time to point out that the dog has a 'striking resemblance' with Basketmouth.
A mischievous social media user went as far as making a collage of the comedian's picture alongside the dog's to emphasize the alleged resemblance.
The 43-year-old comedian got wind of the viral meme and took to his Twitter page to express displeasure with the curator of the meme.
He placed a curse on the person and threatened to deal with him/her if he catches them.
Sharing the meme, Basketmouth wrote,
"The hater that did this will not find peace..I'm coming for you, lemme find fuel 1st… max 2 months. You're mine"