A Nigerian Female model has taken to her twitter account to narrate her ordeal at the hands of Special Anti-Robbery Squad (SARS) officers in Lagos.
The Lady revealed that they(SARS) charged them for indecent dressing and after everything, they collected the some of Ten Thousand Naira from them.
Her Tweets read:
😭Had my first SARS experience. Niggas pulled my friend and I in an UBER searched us and found nothing.
Next thing they go you are indecently dressed and it's against the law. 😂🤣😂🤣Bruhhhh I'm wearing a fucking T-shirt and shorts and how is that against what smelling law.
They sha put us in their VAN and asked us to pay 100k 😂🤣😂🤣😂 I just looked at the man like "ezcuzz me sir, it's like you are mad"
Wo! Last last they collected 10,000 naira.
I tried to get a picture of them and a name. They are from Kpanti Station yaba (🤷🏾‍♀️)
They asked the UBER guy to end the trip and leave us there. 🙄 #PoliceIsNotYourFriend
One of them was stupid enough to give us his phone number because he wants to link up later.
Another twitter user then posted a photo of the Sars Officer ;
This is the Face of David Ale a Rogue SARS officer attached to Panti Yaba Police Station, responsible for terrorizing, molesting and extorting (N10k) 2 ladies in an Uber yesterday night @Tamaradenyefar He MUST be brought to book @PoliceNG_lagos #EndSARS #ReformPoliceNG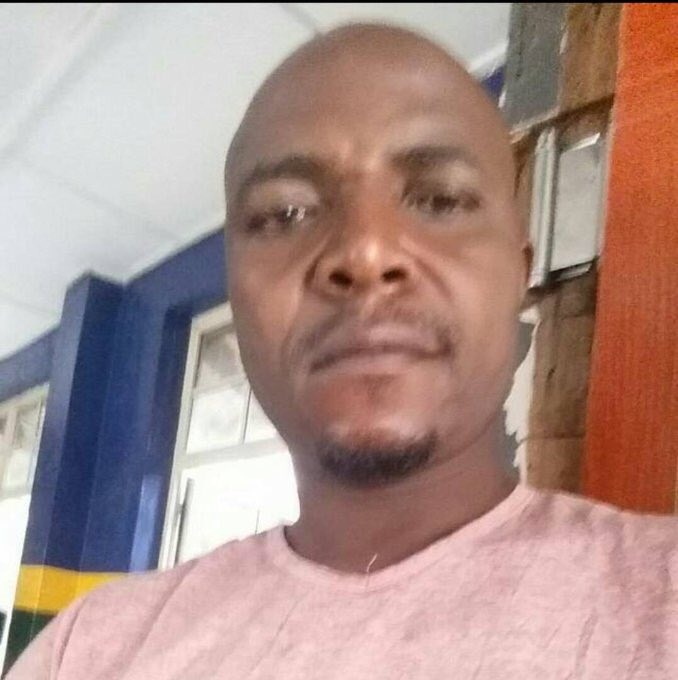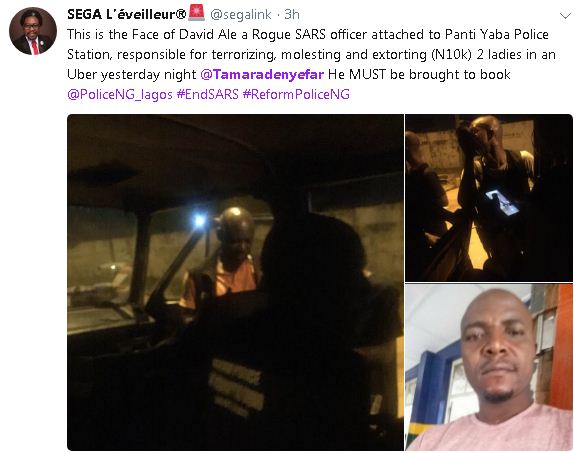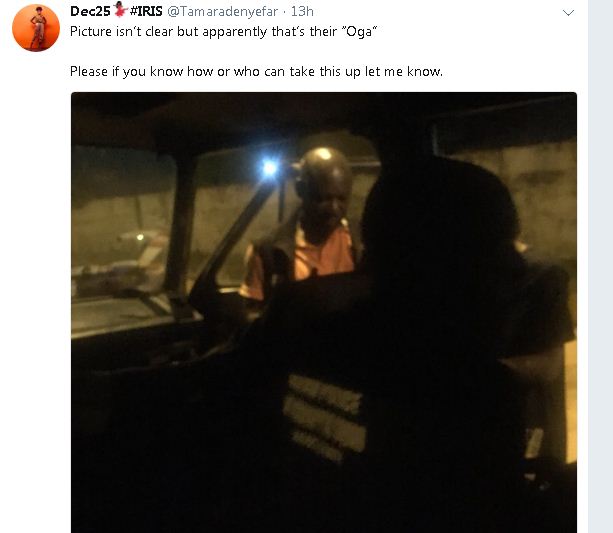 One of the said ladies has given an update. She wrote on Her Instagram account:
This is one of the SARZ men that arrested @tamaradenyefar and myself last night. Here it is . We were in an uber taxi on our way back home, one of the officers flashed the car to stop.. saw two girls.. asked us to come down. Oya na no wahala.. we got off.. he searched our bags.. I had money in mine so perhaps there was already a perception of we go chop this night. Next thing he said.. oya go meet oga..
ok oga sars wetin be my offence first? U r INDECENTLY dressed ! 😂😂 I said excuse me? I am In a taxi.. with a skirt on.. u asked me to come out of uber that I am paying for to arrest me? Who does that? Am I standing on the road? No? Next thing .. common enter that van my friend..we are going to the station. So we sat there at this point..I sent location to my friends cos I wasn't even too sure of where I was. Aii.. So.. it became a thing of negotiation as if I had offended someone .. oya ha far? U go transfer 100k? Baba ha far? Where i wan c 100k? I sat in a van with no ventilation having a panic attack, I asked to come out for air.. they said wetin do u ..y u dey fan urself.. u no dey sweat. At this point I just thought my dear Tamara e go be for us this night.
But ya know I make jokes out of everything so I kept laughing the whole time. One of them even threatened to take our phone off us at some point. Then they started moving the car. Oya where we dey go? They said station.. when we reach station u go carry taxify go ur house after we don settle.. bearing in mind where we was wasn't even far from home .. we got some here. It was the first gate of the estate. Boss abeg stop na . The house is here..Make I give u 10k make we dey go.. he said which 10k.. u never ready to commot here.
We got to the second gate then the supposed boss said if u want to come down. Give me what u have now . I said 10k he said bring it. I gave him some money .
U c this man I uploaded his pic was one of them.. he foolishly gave me his phone number cos he intends to link up with me after intimidating , arresting and exploiting me. ..ENDSARS
so eventually I said to them oga my estate gate is closed because of u..u have to go tell the security u arrested me.. I was using this to buy time while I waited for my friends to show up.. so my friends showed up in a convoy ..I said toh oga..these are my friends ..the guy said ehen if I know I for don ask for more money.. while saying that he was walking quickly to his car cos he knew what was about to happen. Your sarz officer shot in the air and ran into their vehicle and went off. Pls let me ask..how have they protected me? Isn't this their job? . This man's name is David Ale. He says they are from panti. Endstupidity. Endoppresion, Endsarz