General Overseer of the Redeemed Christian Church of God, Pastor Enoch Adeboye is currently trending on micro-blogging website, Twitter and it is not entirely for the right reason.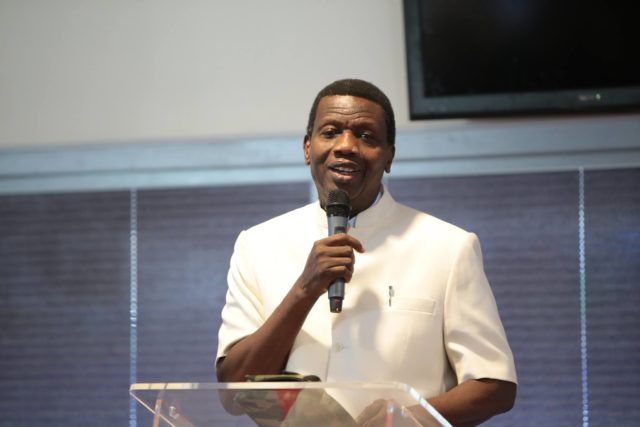 So here's what happened ;
The respected clergy man took to his twitter page to recall how he told his "son" to sack his secretary because he(son) told him that he is excited to resume at work every Monday because he will get to see his secretary.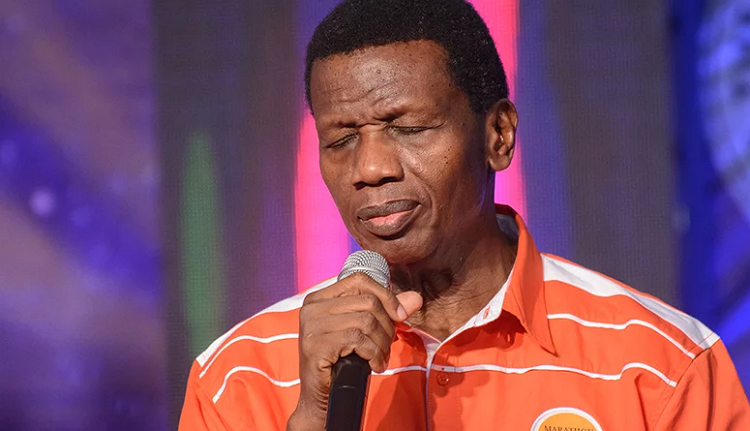 According to Adeboye, he told his son to sack his secretary because no one is worth his marriage. He went on to admonish married men and women on spending time with people who are not their spouse.
The disclosure ignited a spark of controversy as some Nigerians called him out for making an "innocent lady lose her job".
See initial tweet and reactions below;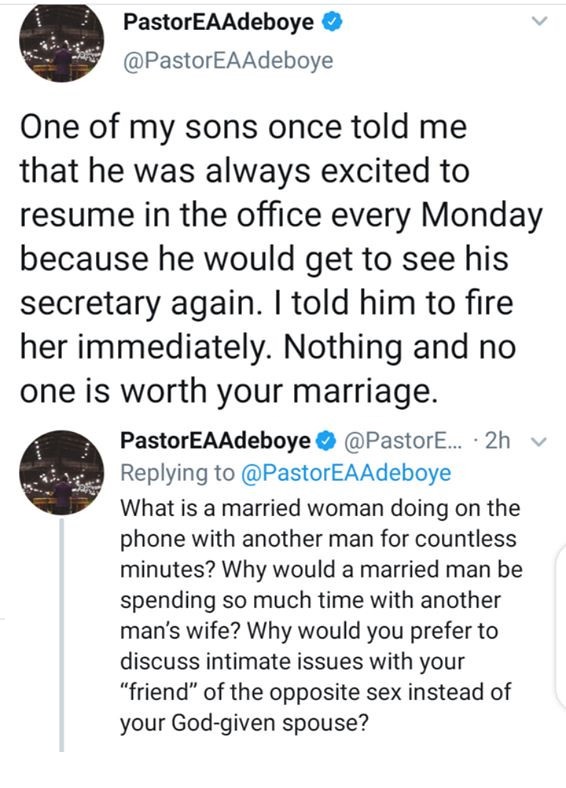 His full post below;
Today, I will be focusing on the married. It is sad that many married people are still having crushes with persons apart from their spouses.

If there is any fellow aside from your spouse you are admiring unduly, you must see such a person as the devil and get rid of them immediately.

One of my sons once told me that he was always excited to resume in the office every Monday because he would get to see his secretary again. I told him to fire her immediately. Nothing and no one is worth your marriage.

What is a married woman doing on the phone with another man for countless minutes? Why would a married man be spending so much time with another man's wife? Why would you prefer to discuss intimate issues with your "friend" of the opposite sex instead of your God-given spouse?

Oh, you may say "I am not doing anything with the fellow; we are just friend." That is exactly where it starts from. The devil knows you are a Christian and would not fall for someone just like that.

So, he makes you become good friends with the fellow and before you know it, you would have fallen. May you not fall for any strategy of the devil in the mighty name of Jesus. If you have any friend that you talk to more than your spouse, break that friendship now.

Proverbs 5:18 has this to say:

"Let thy fountain be blessed: and rejoice with the wife of thy youth."

Spend more time with your spouse and make him/her your confidant. Exchange compliments. The reason many people have crushes outside their marriage is mostly due to a distance between the couple.

They no longer communicate as they used to. When they talk, it is only on serious issues about the children or other family needs, instead of talking/gisting about just anything as they used to in the early days of their marriage.

They no longer go out to fun places or take walks together except they are going for family functions. If there is no distance between yourself and your spouse, no crush can come between you.

No one should be closer to you or know more about you than your spouse.

Shalom ?
Pastor Adeboye asked his son to fire his secretary because he couldn't control the ecstasy of working around her.
An innocent woman lost her job for nothing and people are replying, "More grace to Daddy."

I don't understand, grace to fire more innocent people??

— Obi Of Onitsha?? (@cliqik) January 29, 2020
Pastor Adeboye basically said "Cast that seductive hoe back to streets from whence she came"

— F A I T H (@Retiredsars) January 29, 2020
So while all of us are saying we hate Mondays. Pastor Adeboye's son is always excited to go to work. pic.twitter.com/qDCO5RD90C

— Mazi Ibe (@MaziIbe_) January 29, 2020
We can all criticize Pastor Adeboye for asking his son to sack his secretary until the wife of the son sees a romantic message between her husband&the secretary, takes it up,get into a fight with the husband and kill the husband in anger.

Then she gets sentence to death.

— Tosin Olugbenga (@TosinOlugbenga) January 29, 2020
Draw whatever you want to draw out of pastor adeboye's thread, I'm not concern cos I got the msg clearly. Wives tell their husbands to do this without blinking twice about it and no one gets angry over it. Getting another job for her could be fair but still it's his decision.

— ADURAGBEMI (@Darablaqie) January 29, 2020
Pastor Adeboye just innocently snitched on his son ? imagine if the sons wife sees that tweet, that fire they were trying to quench by firing that innocent secretary will be small compared to the Fire that will be on the mountain Sorry house ?? pic.twitter.com/KAOH91gUuz

— SON OF PH SOIL (@ajuicygeorge) January 29, 2020
My sister if you chase away your help cos you feel she might tempt your hubby then you have no right to blast Pastor Adeboye. Like the only crime your help commited is developing breast and growing into a beautiful woman. Everyone is woke on social media ,hypocrites..

— Mercenary (@Ifeatu9) January 29, 2020
What do you say of women who resign from their place of work because of sexual harassment.

Why should they resign?

Pastor Adeboye has advised his SON, not you, to take decisions to prevent something that could destroy the son.

You can do something different.

— Tosin Olugbenga (@TosinOlugbenga) January 29, 2020