A horse collapsed in the middle of the road allegedly after being used to transport people from one point to another due to the absence of okada and keke in Lagos.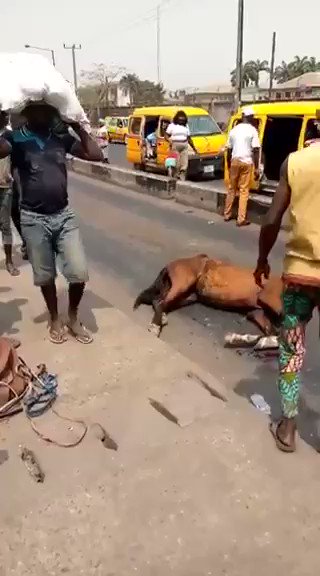 As the ban took effect, lots of horses were seen on Lagos roads. The horses were reportedly used to convey Lagos residents to their venue (read here).
A video of a horse lying motionless in the middle of a busy expressway in Lagos has now gone viral online as the horse is obviously not equipped to be the perfect substitute for Okada and Keke
Below is the video and also some Twitter reactions.
Haaaa them don kill horse pic.twitter.com/G9GE78NeNP

— Mr. Alabi of Lagos (@the_Lawrenz) February 3, 2020
Ah the horse died? On its first day of work?

— MAYOR OF ADA GEORGE (@Kinng_daviid) February 3, 2020
E de fu ni pure water mu that one break my heart ??

— Official_Olayiwola (@Im___wayne) February 3, 2020
???? Ogaa you must resurrect my horse!

— ASSISTANT JESUS (@Babawalter94) February 3, 2020
Somebody even said enu to fi gbale yen le ti affect brain e ?????

— Demilade (@__Demilade) February 3, 2020