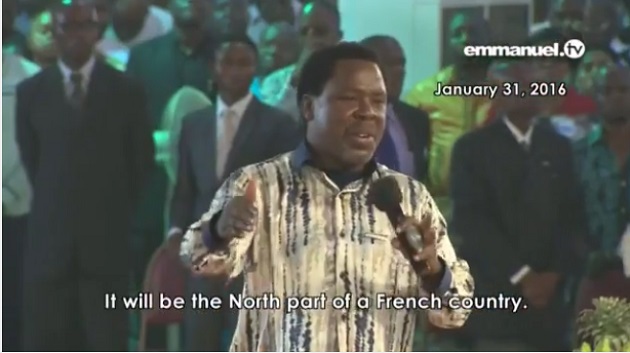 As the world mourns the tragic terror attack that took place in Brussels, Belgium yesterday – Nigerian prophet T.B. Joshua, has released a video on YouTube claiming he foretold the strike weeks ago.
Speaking about a 'French country' during his prophecies on Sunday 31st January 2016, the cleric said,
"They have to tighten their security; it's not yet over. These evil people are in the town."
The popular prophet was seemingly referring to the perpetrators of the terrorist attack in Paris that left 130 dead in November 2015.
"The people they chased out – there are some that are still there. They want to strike back."
He added that the 'evildoers' were looking for an opportunity to strike an 'assembly of people'.
"They will blow – a lot of people will die. It will be the North part of a French country," Joshua warned, calling on congregants and viewers of his popular Christian channel Emmanuel TV to prayer.
Belgium speaks 3 languages French, Dutch, and German. But majority of them speak French and the city that was attacked is among the french speaking part of Belgium
In the early hours of Tuesday 22 March 2016, three explosions occurred in Belgium: two at Brussels Airport in Zaventem and one at Maelbeek metro station in Brussels.
At least 34 people were killed and 230 others injured in the deadliest act of terrorism on Belgian soil.
Shortly after news of the attack, terrorist group ISIS claimed responsibility in 'revenge for Belgium's role in fighting militants in Syria and Iraq'.