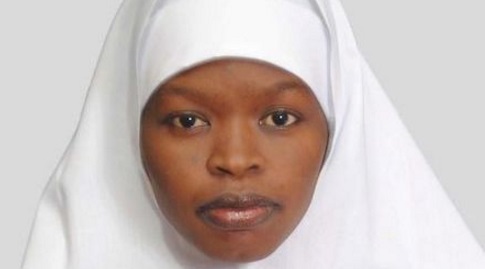 Earlier today, Aisha Wakil (Pictured above) alongside journalist Ahmed Salkida and Amb Ahmed U. Bolori were all declared wanted by the Nigerian Army yesterday, August 14 in connection with information on the conditions and exact locations of Chibok Girls abducted by Boko Haram 2 years ago.
Wakil who is strongly believed to have direct links to Boko Haram, has now responded via an interview with Premium Times.
According to Aisha Wakil, she received news of her being wanted with rude shock, because she is not a stranger to the military.
"They know me very well. Right from (former President Goodluck) Jonathan's time. I am not hiding. I've had meeting with them, I still met with the Chief of Army Staff, Tukur Buratai, and other Army chiefs towards the end of last year. We had very lengthy meeting that we finished around 11 p.m and the next day we continued. I'm in Abuja right now, but I am thinking of going back to Maiduguri so I can see them at the main barracks there. But if there's anywhere I could see them in Abuja here I will go and see them."