From his humble beginnings as a small unsigned act to getting a verse from Olamide to getting a YBNL/Empire record deal, Asake has definitely come a long way. After Seven Number 1 songs, and an album that is already scattering everywhere, Mr Money With The Vibes cannot seem to put his foot (or voice) anywhere wrong.
An embodiment of when talent + preparation meets opportunity, Asake's story is a compelling and inspiring one. In an industry where the average 'blow' age is 22/23, he broke into the limelight in his late 20s. His line from PBUY, "I just blow but omo I know my set" is even more profound because it emphasizes the fact that even though he just became a force, he has been grinding for a very long time.
Before the blow
Asake who actually started as a dancer studied Theater Arts in the famous Obafemi Awolowo University. To boost his appeal and increase his income, he decided to add music to his performing arts portfolio, and when he dropped a song, it became a hit in his school. This convinced him to prioritize music instead of dance, and his journey to stardom officially began. 
The greatest performer in our music industry is in oau, his name is Asake

What i saw was unbelievable, thirty minutes of Greatness argghhhh

— Emeka The Stallion 🐎 (@BlaqBonez) August 29, 2016
But it definitely wasn't rosy. As far back as 2013, he was booed off stage when he tried to do a Fela-type performance with pants and semi nude women. In interviews he has stated that he wanted to give up a few times, but always managed to keep the fire burning. He eventually scored a moderate hit with Mr Money, released in 2020.  
However, as is the norm in a fast-paced industry, the attention from that song and the remix featuring Peruzzi and Zlatan soon fizzled out, and he was back to the world of the 'not blown'. 
Yhemo Lee: The Plug
Feranmi, popularly known as Yhemo Lee is an actor, entrepreneur and Night-Life Enthusiast. He is also Asake's friend and has been his (unofficial) A&R for years. Without informing Asake, he sent the Omo-Ope song to Olamide and asked the YBNL boss for a verse. Olamide liked the song, recorded a rap verse and sent it back. Yhemo Lee invited Asake over, and played Olamide's verse to him, and as they say, the rest is history. 
Olamide & YBNL 
Prior to getting a surprise verse from Olamide, Asake had been texting the label boss for years, asking for an opportunity. He did not get a response. But soon after Omo-Ope dropped and was burning up the charts, Olamide reached out to Asake and requested they meet. When they did, he offered Asake a record contract with YBNL, and that is where the 'blow' truly began.  
One call from @Olamide and everything changed

— ASAKE (@asakemusik) August 18, 2022
Debut Project 
Following the success of Omo-Ope and his signing to YBNL, Asake's first EP "Ololade Asake" was quickly launched by the label.  It had four tracks, including "Omo Ope ft Olamide", "Trabaye", "Sungba" and "Baba God". It spurned 2 Number 1 hits, and was quickly followed by a remix of Sungba, featuring Burna Boy. The remix literally replaced the original as Number One on the charts, and began what has become an ongoing run that will culminate in Asake replacing himself as number one on the charts, multiple times. 
The Mega Blow
Asake is currently the number 1 Street Pop/Afro-Fusion artist in the country and is having a breakout year unlike anything we've ever seen. He possesses an ineffable vibe that is capable of making you play his songs over and over again.
With an eclectic approach to music, his creation process is unlike any other we've seen in recent times. He fuses his sounds from everywhere, including Fuji, HighLife, Pop, and HipHop, a blend that has separated him from the crowd. He makes music that resonates with his emotions and tells stories about his experiences, and that of those around him.
Landlord of the Charts
Asake has had a total of 7 Number One hit songs in 2022 – a record-breaking feat for any artist in Afrobeats history. These are Omo-Ope, Sungba, Sungba Rmx ft Burna, Spinall's Palazzo, Peace Be Unto You, Fireboy's Bandana and Terminator, which is currently Number One on the charts. 
There is currently a running joke that if you want to have a number one song, beg Asake not to release any song in that period. 
The Album: Mr Money With The Vibe
His debut album, MMWTV launched September 8, 2022, and in a few hours, it became the number one album in Nigeria.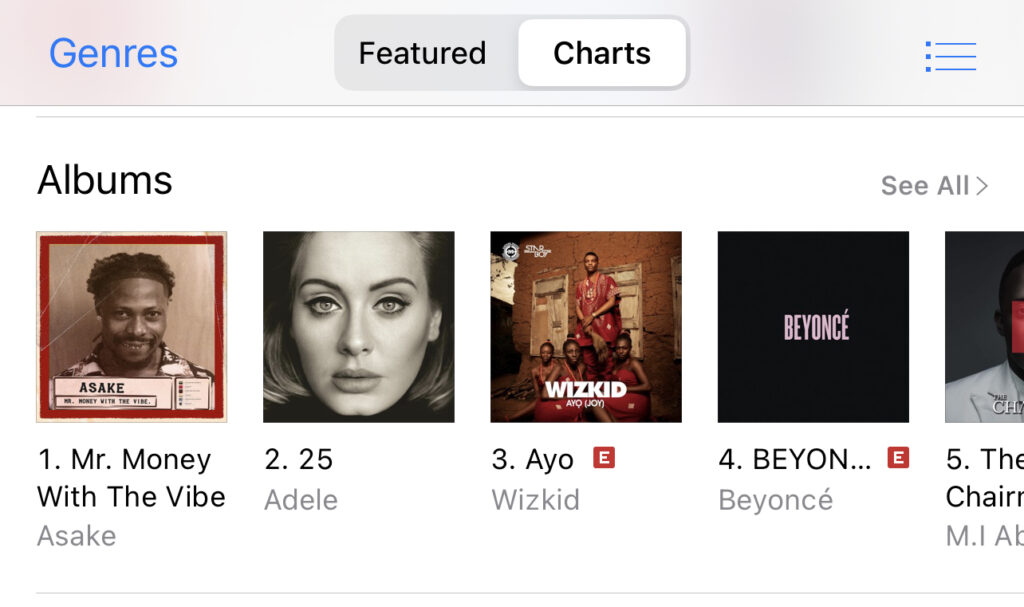 The 12-track LP features only 2 people – Russ and Burna Boy. At first listen, it is obvious that Asake was born ready for this industry and one can only marvel at his talent, work ethic and vibe. One can also look forward to what the future holds for him, because it is very almost certain that Mr Money is going to be around for a long time. 
Written by @Chydee