A Nigerian lady, Josephine Muyiwa-Afolabi, who gave birth after waiting for 15 years, has recounted how they were mocked by friends.
Josephine and her husband, Pastor Emmanuel Muyiwa-Afolabi, welcomed their first child in June of 2022.
Taking to Facebook following the birth of their daughter, the career coach detailed her journey from her wedding to years of waiting, lies, mockery that she and her husband suffered.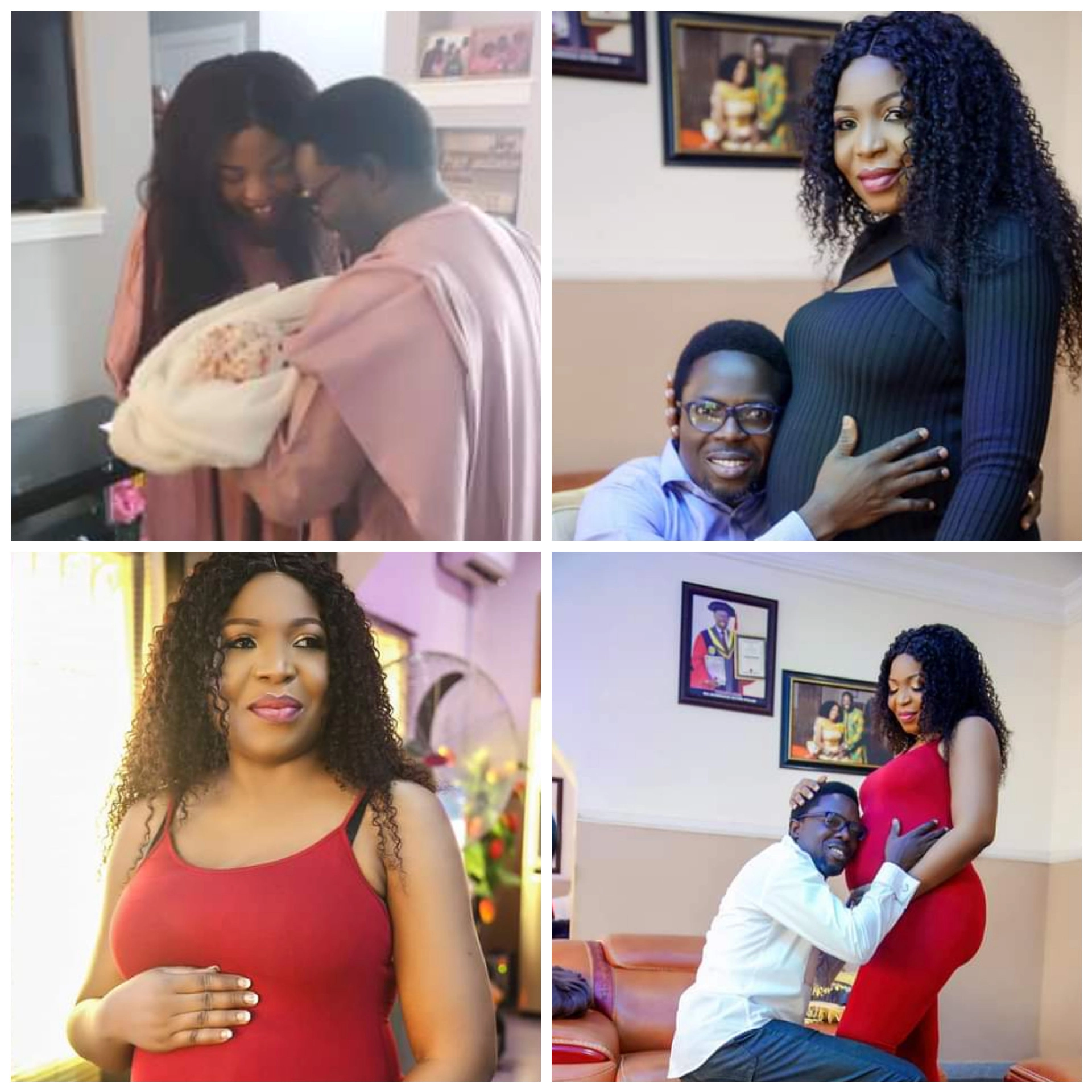 In a lengthy post on her page recently, she recalled how two women gossiped about her in church, saying that she must lived a very promiscuous life in school and had several abortions.
Her post reads,
"When we said "I do" on October 20, 2007, little did we know the kind of journey we were about to embark on. We had envisaged welcoming our bundle of joy within the first year,"

But like a silly joke, days started running into weeks, weeks into months and months into unbelievable years.

Years full of ceaseless monthly flows; of continued red-coloured disappointment. Of staying clear of anti-malarials to avoid hurting a supposed pregnancy that didn't even exist.

Of unexplained excruciating pains which lasted for 14 days a month, Leading my husbandman to pray at some point saying: "Lord, even if you will not give us children, heal my wife from this endless pain"

What about mockery and dangerous lies from those we assumed were the closest to us? Same people who pretended to be praying for us while in reality, were rejoicing in secret about our situation, using our pain as news items, mocking us for always being on medications….hmmnnn

But right at the height of the mockery, Oh Lord, you arose and made good your promise unto us. At the most unexpected time, You shut the mouth of the enemy and the mockers!

After 15 years of what seemed like a never-ending journey of childlessness, You have proven that you sure have a track record of keeping your words. Olorun agbaye o, you're mighty!

After endless visits to over a decade hospitals with several failed procedures, Oh Lord God, you stepped in, in your own time and you've made it beautiful.

After I totally gave up and deleted every plan for children from my plans last year May, you Oh Lord decided to show up and remind me that your promises unto me are yea and amen!

And for everyone who has asked us: "where is your God?", You oh Lord has answered them by yourself!

Hey God!!! Muyiwa and I are finally dad and mom to our precious Princess – oh how sweet the feeling!

And to my in-laws: there was no single day of complaints or insults; it's been massive support all through these 15 years. The Afolabis are a special breed abeg and we are super-grateful.

"To my mother- abiyamo tooto- Taiyelolu Alice- thank you for your unceasing and genuine prayers. The baby is finally here.

To my siblings who were truly there for me- you will not lose your reward. And our friends who stood with us in prayers and moral support, we love you all. Now, we can confidently sing: See what the Lord has done (2x) What we waited for Has come to pass. See what the Lord has done"
Narrating further, she wrote,
"I was at work and a colleague complained about how her domestic staff was getting fatter by the day and how she suspected that the girl must be pregnant.

"I chipped in: "she might be getting fat because you're feeding her well and she has peace of mind; weight gain is not the only symptom of pregnancy and doesn't have to be a result of pregnancy."

And my colleague responded: "Josephine, you should have at least let experienced people talk."

What was my reaction? I felt like the ground should open up and sw@llow me. Once she realized how embarrassed I felt, she quickly apologized, saying: "sorry, I didn't mean it that way."

"Well, the deed was already done and till I left that particular office, I deliberately avoided every and any conversation related to pregnancy, child bearing, etc.

#Lesson. Sometimes, you may mean no harm but know this: people who are trying to conceive are extremely sensitive to words and actions that alienate them or make them feel incapable.

The fact that someone is yet to have children does not imply that they are in total oblivion about pregnancy, child bearing or child care, just the same way it'll be erroneous to assume that an unmarried person is clueless about marriage matters. Let's be more considerate and kinder in our choice of words.

About seven years into our marriage, Sunday service had just ended and as the usual practice was, my husbandman had to attend the post-service Pastors' meeting holding in the Senior Pastor's office. I sat in the church auditorium waiting for him.

Then two ladies walked past and stood some distance away. It appeared like they were waiting to see the Senior pastor.

One of them then asked the other, stylishly pointing in my direction: "who is this woman?"

That's Pastor Afolabi's wife.", the other responded. "Which Pastor Afolabi? She queried further.

All the while, I didn't look up and as such, neither of the ladies were aware I could hear them.

"How many Pastor Afolabis do we have here? that cute pastor naa."

"You mean he's married? Wow! I didn't know."

"Yes, he's married but it's like they don't have children"

And the other responded: "na wa o. This thing is very common with young ladies of nowadays. They'll live very promiscuous lives in secondary school and university, have several abortions and end up looking for a pastor to marry and the pastor will start suffering and praying for them to have children without having a clue about the wife's past."

My reaction? I moved farther away from them as I didn't want to hear any more rubb1sh. I know myself, my husbandman knows me too well and my God knows me better than anyone else does.

#Lesson Whoever told anyone that women trying to conceive must have been promiscuous at some point in their lives? And why would anyone assume that having children is a reward for chastity such that once you don't have, it is assumed you lived a deviant life?

Look, there are several people who had multiple sexual partners as singles and yet had no issues with having children after wedding. In the same vein are several couples who though remained chaste all through their single years but had to deal with infertility.

While I'm a strong crusader for no premarital sex, I understand that virginity and chastity are no guarantees for fertility. So next time you see a couple who are trying to conceive, don't be quick to draw conclusions that you know nothing about.